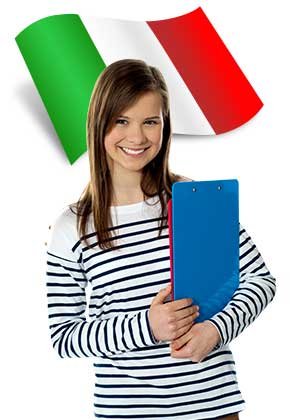 Lessons and grinds available in Italian for Leaving Certificate, Junior Certificate and third level
students. Classes are also available for adults at all levels from beginners onwards. Italian for business is also available.
Individual weekly feedback given to each student-weekly testing to measure progress, identify where the student is going wrong and correct it.
You will NOT just pay money to be given piles of notes…you will be TAUGHT as an individual by someone who is in your corner and you will LEARN as an individual. A systematic thought process is vital to avoid error and that is a priority with us.
GRAMMAR
We place emphasis on verb structure, pronoun position, adjective agreement and the elimination of common errors which represent 90% of mark loss.You will be taught 'must know' grammar systematically with weekly tests to measure progress. Areas brushed over by teachers in classroom settings will be explained clearly so that you will master what you are doing and have confidence in your understanding.
ESSAYS AND READING COMPREHENSION
Comprehension techniques and extension of vocabulary and from past papers and the Italian press
La Stampa, La Repubblica, Il Messaggero. Examination of journalistic style as guide to essay construction.  Examination of journalistic style as guide to essay construction. Most essays deal with general social issues and this requires a specific vocabulary and structure that will be taught in depth to allow the student to handle any possible topic.
LISTENING
Aural work with past papers and online sources from www.rai.it     www.skytg24.it    www.radio24.it
To accustom the ear to Itaiian spoken with correct accent as full pace.Confidence will grow because the listening will be on a phrase by phrase basis that will gradually over time build to efficient first time understanding resulting in maximum marks in the listening section of the exam
ORAL FLUENCY AND CONFIDENCE
Intense oral work systematically examining exam topics of discussion using brain-storming and spider charts to stimulate spontaneous conversation and fluency. Also work on the documents to be presented during the oral to ensure an in depth fluency on the topic chosen.You will learn to put ideas into words with confidence in a setting NOT available in large school classrooms or large scale grind environment. On average 20 minutes of each lesson is set aside for intense speaking which gradually becomes full pace meaning that nothing that an examiner says should phase the student.
As well as past Leaving and Junior Cert papers UK 'A level', French Baccalauréat, Spanish Selectividad and German Abitur past papers are also used to enhance performance in comprehension, listening and written expression.